Liquid Swap Instructions
The main page of the liquidity pool can be found in the exchange office at https://cryptorg.net/en/swap/myshare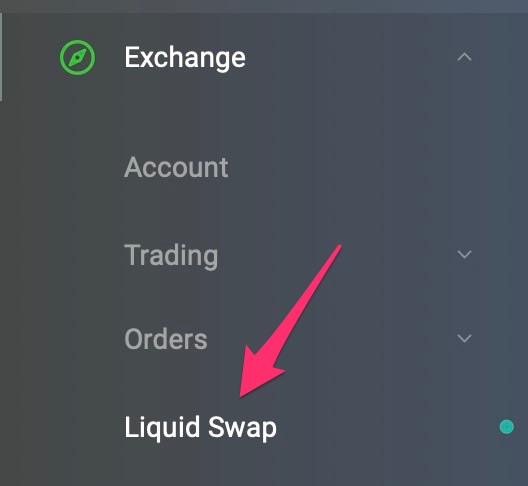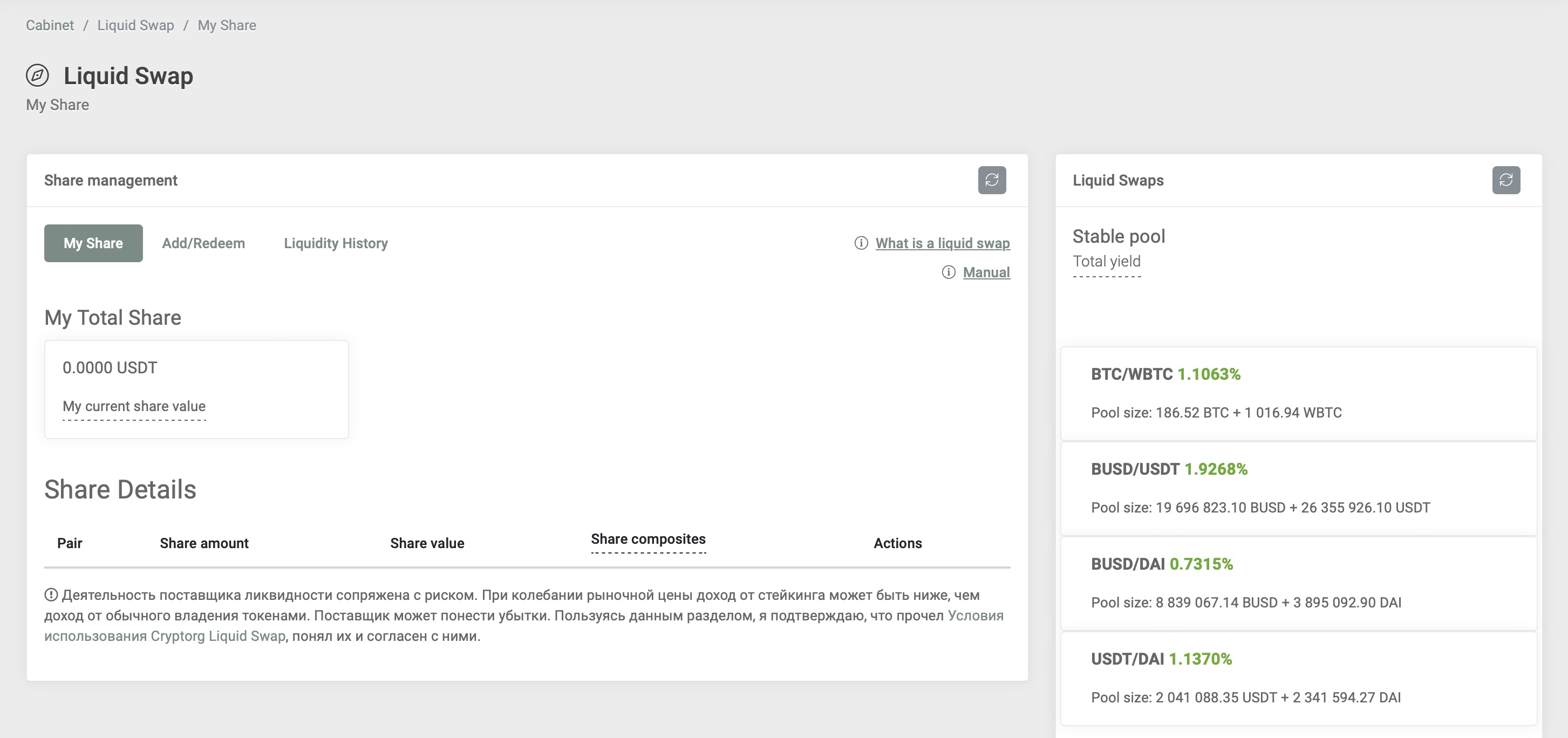 How to add coins to the liquidity pool
To be able to join pools, you must have free coins in your SPOT exchange wallet
Analyze and choose a pool in which you want to invest and go to Add/Redeem
Choose a pool from the list. In this case, if you have no coins present in the pool on your SPOT wallet balance, your balance will show zero.
Selecting a pool. The system shows that there is an available balance. The size of the pool is also visible.
Enter the amount of investment in the line, check the box next to the terms of the agreement and click Add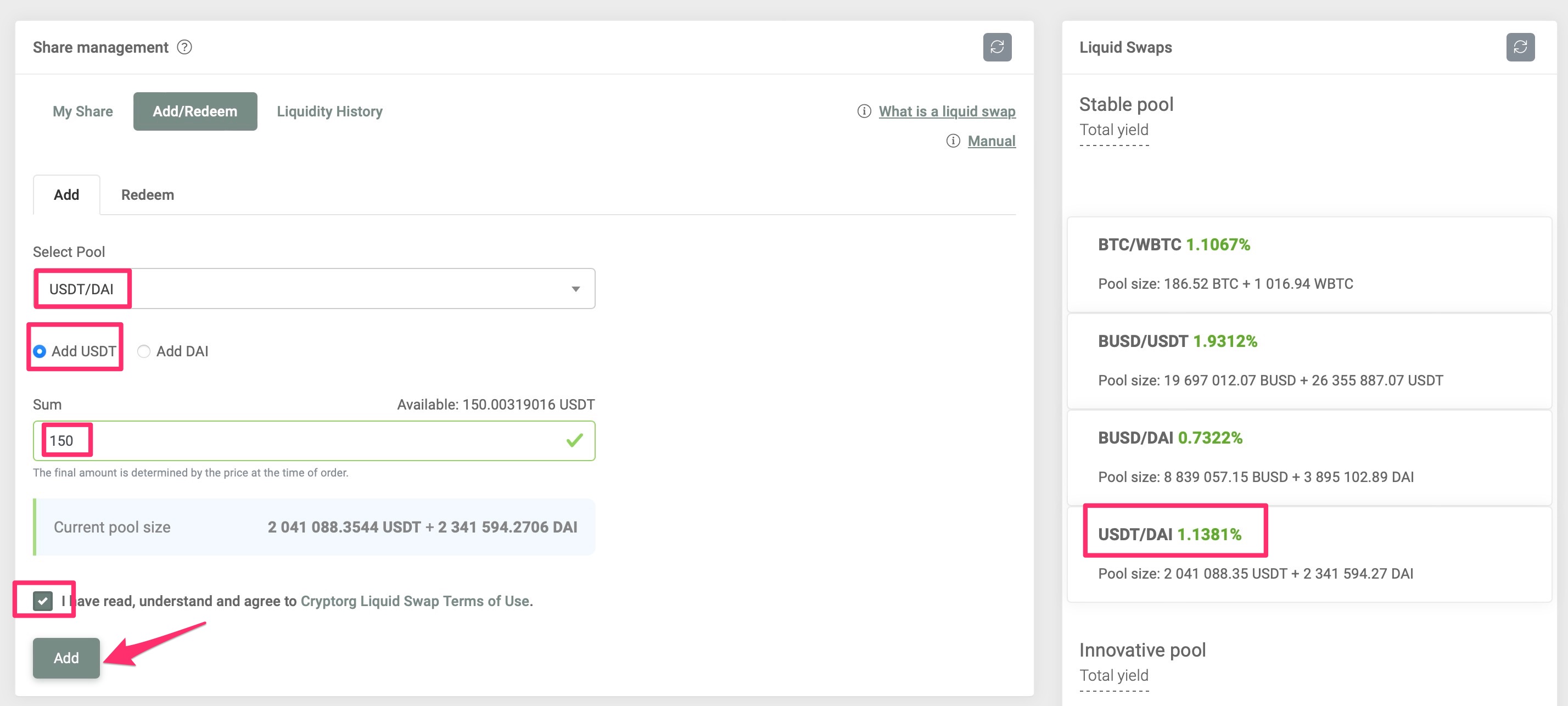 After that, the system will take you to the main page. It takes some time to conduct transactions and analyze the information, so initially you may see a blank page. Don't worry — this is normal.
Refresh the page in 1-2 minutes and you will see your investment, where you will see your current share value, the composition of the share — the system will automatically divide it by the 2 coins present in the pool. In our case it is USDT+DAI.
The amount of the share will change every day. In a stable pool, as a rule, upwards.
Adding an investment in a share
You can add investments to the invested pool from above. To do this, click the green plus sign in the actions or simply go back to the Add/Redeem section and select the desired pool
Removing an investment from the pool
You can leave the pool either completely or partially.
There are three ways to exit:
In two coins.
In the first coin.
In the second coin.
Delete a share can be either partially or completely.
Click on the minus in the actions of the current share or go directly to the Add/Remove section and select the desired pool.
If you want to withdraw from the pool completely, select the removal of both coins, click on the available amount of shares and balances are automatically substituted in the right lines.
If you want to remove only part or one of the coins of the pool, then select the appropriate values.
Press delete button. In some time coins will appear at you on SPOT exchange wallet.
Liquidity history
The entire history of your own liquidity and entry/exit from pools can be tracked on a separate page https://cryptorg.net/en/swap/history
Commissions for entering/exiting the pool
The commission for entering an asset into the pool. When you add an asset to the pool, part of the asset (the proportion depends on the current ratio of assets in the pool) will have to be converted into the second asset in the pool. For this conversion will be charged a commission of no more than 0.1%.
Fee for Withdrawing an Asset from the Pool. As your share in the pool consists of two assets, you can withdraw it from the pool WITHOUT COMMISSION by selecting the option to withdraw it in two assets. In this case, the two assets will simply move to the balance of your SPOT wallet on the Cryptorg.exchange. However, if you choose to withdraw in any one asset, then your share in the second asset will be forced to be converted into the asset you want, and for this determination a commission of no more than 0.1% will be charged.