Bot management
All bots are displayed on the futures bots page. Click on the menu My bots — futures https://cryptorg.net/en/bot-futures/index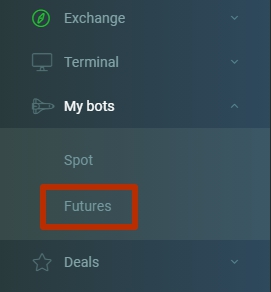 Outer shell
This is how the page with configured bots looks like. You can also create and delete bots here.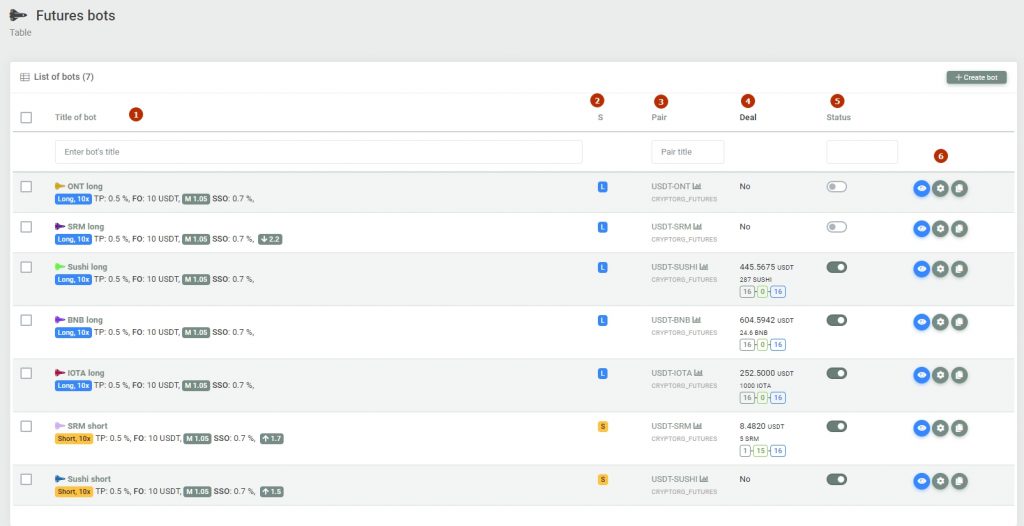 The name of the robot. This block displays the name of the bot, as well as a brief summary of all its settings. All abbreviations are interactive, just hover over them and a tooltip will appear.
Strategy. Long or short. The block can be filtered.
Trading pair. It is indicated which pair the bot is tuned to and which exchange is trading. The block can be filtered.
Deal. A disabled bot will have an empty field. If the bot is active, the number of working orders will be indicated, as well as the accumulated volume of the transaction.
Status. This is an important block. Using the slider, you can instantly enable / disable the bot. Attention! If the deal is in progress and the bot is turned off, the shutdown will occur after TP is triggered. Until then, the bot will conduct the transaction.
Auxiliary unit. Buttons for viewing the «insides» of the bot, setting, copying the bot to another pair.
If you need to monitor only active trades, go to the Trades — futures menu https://cryptorg.net/en/deal-futures/index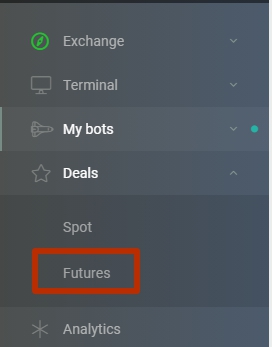 The already familiar interface will appear under the section My bots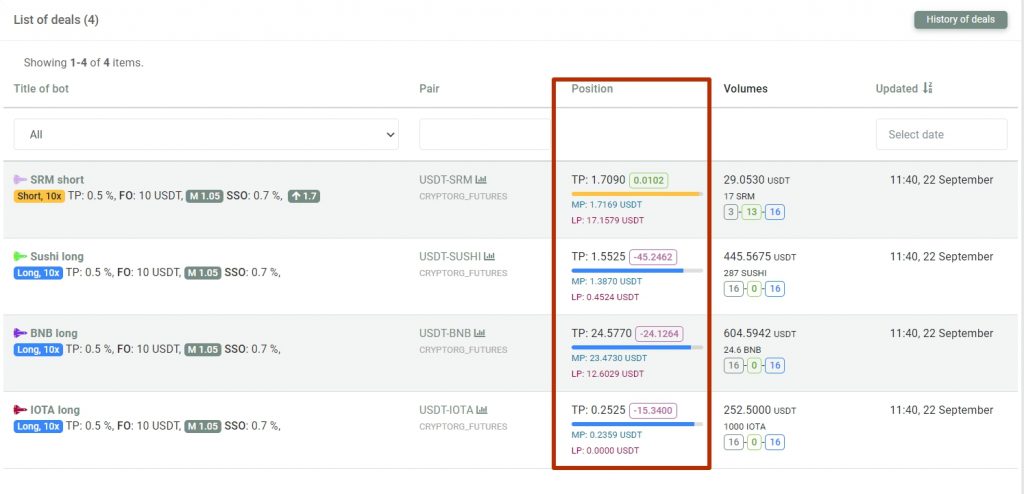 The Position block visually with a slider shows how far is left to TP. And also different price indicators are visible. All hover abbreviations show pop-up information.
Inner shell
To get inside the bot, click on its name or on the browse button from the My bots menu, or from the My deals menu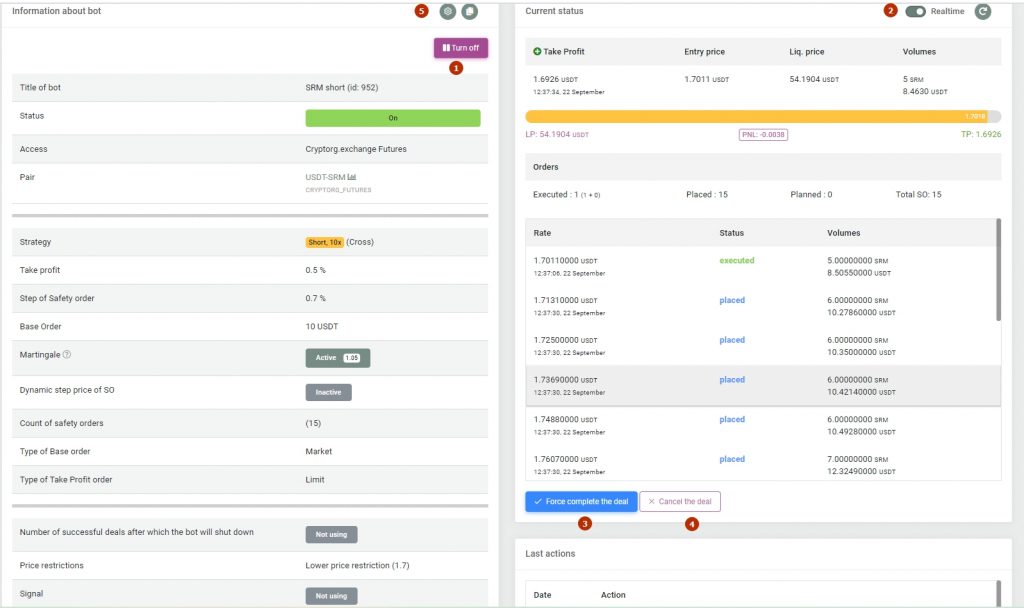 Enable / Disable button. Allows you to start and disable the bot. If you want to complete an active trade, click Turn Off. The bot will shutdown as soon as TP is triggered. At the same time, he will continue to place Safety Orders, if necessary.
Enable / disable the bot using the slider.
Forcefully close the deal. The position will be closed at the market price. The existing orders will be deleted. Please note that closing the trade ahead of time may result in a loss.
Cancel the deal. The orders will be canceled, but the position will remain in the market. Then you can move it with your hands or turn on the bot with a new grid. The bot will pick up the position remaining in the market.
Configuring bots. Changing functions
Semi-manual operation
If the bot is in standby mode, you can start a deal with your hands at any time by clicking the Force start a deal button

The bot will open an initial position according to your settings and place a grid of orders. Thus, if a trader prefers manual trading or sees a good opportunity to enter, then he can use this button, and then the bot will do everything for him. That is, it will bring the position to TP.
Read also Managing Bots in the Terminal