Partner program
Partner program of the service are available at the link https://cryptorg.net/en/user/invite 
How to start earning 
Sign up in Cryptorg 
Get your referral link. 
Invite your friends to register via the link or enter your referral ID when registering.
Place a link with Your ID on forums, social networks, blogs.
Get 10-20 % of each payment from attracted users. 
Information 
You will receive 10 % of each replenishment on Cryptorg of the users attracted by you, or 20 % if your own amount of partner commissions from replenishment of your referrals will be more than $1000.
You can withdraw funds to your bitcoin wallet or to your internal balance. 
Withdrawals are made automatically every 2 weeks. 
In order to become your referral the referred user must register through a special link or specify your referral number when registering.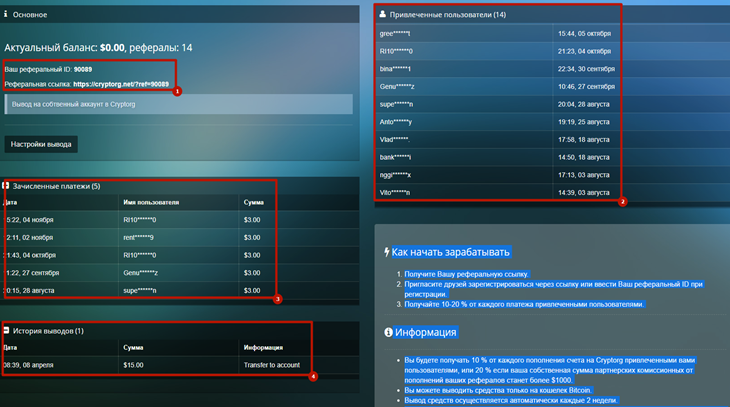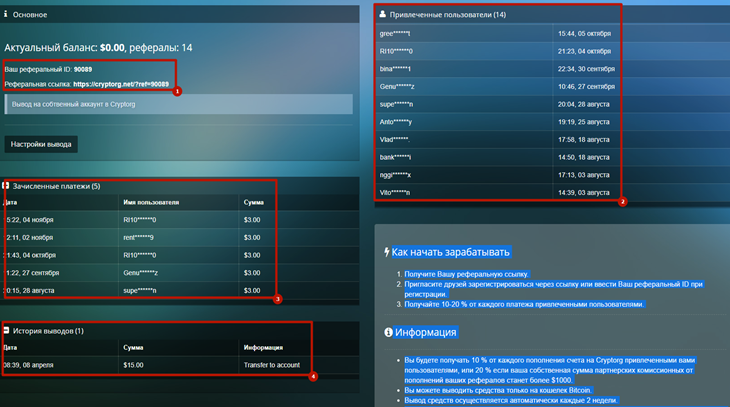 You can set up withdrawal of referral funds to your Bitcoin Wallet or to your account inside Cryptorg. The minimum withdrawal amount is $ 30.